Welcome to Taicang Global Machinery Co., Ltd
At Global Machinery, we provide Tube Mill, Roll Forming Machine, Slitting & Cut to length Line and corresponding components, and meet your customized requirements. Contact us right now!
Cold saw cut off machine sophisticatedly designed by TGMCO, runs safer, cut cleaner, and less prone to breakage. The cold saw can be operated either by HSS or TCT blades. The traveling carriage is accelerated by a reliable rack and pinion system, AC or DC driven. It runs quietly. Comparing to flying cut off machine, one important advantage is accuracy. To get this best result, the machine is designed and programmed for precise feed and cutting speed control. An optimal cut depends on a precise speed control system. The ability to manipulate the blade speed and feed rate is critical to both mill line speed and blade life.
TGMCO has developed the software that performs the necessary calculations to determine the cutting paths, maximizing the cutting rate, and preventing collisions. It also provides the feeding system an accurate and backlash-free movement.
TGMCO cold saw cut off machine is to make a clean and very precise in-line cut without influencing the effective production speed on the basis of which the cut-off performance parameters are optimized.
Main Specification
Highlights
Centralized lubrication system for a better machine maintenance and longer service life

Burr-free cutting without need for end facing process

Various length of cutting without stopping the tube mill

Easy-to-use computer based graphic interface

Able to handle products of various shape: round, square, rectangular, open profile

High cutting accuracy

Remote monitoring function enabling the on-site operation status being assessed at remote locations

Once programmed, no need for constant operator presence at control desk
Model No.

Size (mm)

Thickness (mm)

Length (m)

Tolerance (mm)

Speed (m/min)

CS32

Ø 12 – 32

□ 10 – 25

0.6 – 1.5

4.0 – 8.0

≤ ±1

Max. 120

CS60

Ø 20 – 60

□ 15 – 47

1.0 – 3.5

4.0 – 12.0

≤ ±1

Max. 105

CS76

Ø 32 – 76

□ 25 – 60

1.5 – 3.75

4.0 – 12.0

≤ ±1

Max. 95

CS89

Ø 38 – 89

□ 30 – 70

1.5 – 4.0

4.0 – 12.0

≤ ±2

Max. 90

CS114

Ø 50 – 114

□ 40 – 90

1.5 – 5.0

4.0 – 12.0

≤ ±2

Max. 80

CS127

Ø 60 – 127

□ 40 – 100

2.0 – 6.0

4.0 – 12.0

≤ ±2

Max. 55

CS165

Ø 89 – 165

□ 70 – 130

2.0 – 7.0

4.0 – 12.0

≤ ±2

Max. 50
FAQ
1) Q: Will you deliver the right goods as ordered?  How can I trust you?
   A: Yes, we will. We are Gold supplier of Made-in-China with SGS assessment (Audit report can be provided).  We have cooperated with many customers all over the world with high market reputation, no worries.
2) Q: How to choose the Tube Mill Line?
A: You have to inform us following details:
– The pipe material
– Round pipe range
– Square pipe range
– Rectangle pipe range
– Wall thickness range
– The pipe usage
3) Q: How to choose the Roll Forming Machine?
A: You have to inform us following details:
– Coil material
– Coil thickness
– Coil weight
– Cutting type
– Profiles drawings
– Other special attention
4) Q: How to choose the Slitting Line & Cut to Length line?
A: You have to inform us following details:
– Coil material
– Coil thickness
– Coil width
– Coil weight
– Finished sizes
– Other special attention
55) Q: Where is the nearest  airport  to your company?
   A: Shanghai Putong or Hongqiao Airport.
6) Q: How about your service? 
   A:  Before sales:
– Technical Support: TGMCO will provide detailed technical information such as technical &  commercial offer, machine photos, running video, layout, operation manual, and show you working machines in our factory.
– Apply Visa: TGMCO will provide officially invitation letter to apply Visa in china embassy as authority procedures and requirements.
After sales: TGMCO provides comprehensive After Sales Support and Service to meet our customer need.
– Drawings: Provide the foundation drawing, electric scheme and wiring diagram, hydraulic drawing, pneumatic & electric pipeline drawing and other drawings requested by customer.
– Installation and commissioning: TGMCO will send our technicians to customer's workshop for supervision of installation and commission
Training of Customers' technician/workers during commission
– Breakdown Support: We offer 1 year warranty service for main crucial components except consumables
Inform immediate technical assistance and advice to customer by phone or e-mail.
Skilled and experienced engineers are capable of dealing with any type of breakdowns.
Technical service work performed in Customer's site if required.
Urgently supply mechanical or electronic components.
Fast supply of spare parts and wearing parts to cover foreseeable requirements
Certificate
​
​
Main Customers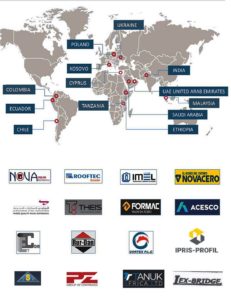 Packing & Delivery
Not only the Good Machine, but also the Most Attentive Service
Integrity Solution & Turnkey Project
Creat the Value of Steel