Welcome to Taicang Global Machinery Co., Ltd
At Global Machinery, we provide Tube Mill, Roll Forming Machine, Slitting & Cut to length Line and corresponding components, and meet your customized requirements. Contact us right now!
TGMCO designs and manufactures stationary shear end welder machine that comes in various design from semi-automatic to fully automatic. The operation starts by jogging the tail end into shearing position. Then the strip is edge guided automatically or manually for centering adjustment. The tail end is then clamped and sheared. The lead end of the new coil is fed into position, edge guided, clamped and sheared. The sheared scrap can be removed manually or automatically. After shear process is done, the weld torch is initiated, joining the two coils end together. After welding, the machine is reset for the next work cycle. TIG or MIG weld process is applied that have proven to be the best and most cost-effective welding for tube making industry. The automatically driven weld torch allows for a smooth and consistent weld bead across the seam of material.
Main Specification
Highlights
Reduction of coil changeover time for a significant increase in work efficiency

Great reduction in tooling damage, scrap, and safety hazards

Latest technology to keep machine up and running at its full capacity

Increased tensile capacity of weld seam by angel shear design

Fully automatic machine with PLC control, minimum work cycle time, and easy operation

Smooth and high-hardness weld seam by automatic TIG weld processing, with no need for grinding

Communication with uncoiler, leveler and accumulator, realizing one-man operation for the complete entry line section
| | | | | |
| --- | --- | --- | --- | --- |
| Model No. | Strip Width (mm) | Strip Thickness (mm) | Cycle Time (min) | Welding |
| JH32 | 40 – 120 | 0.6 – 1.6 | ≤ 1.5 | TIG |
| JH50 | 60 – 200 | 1.0 – 3.5 | ≤ 1.5 | TIG |
| JH76 | 100 – 260 | 1.2 – 3.75 | ≤ 2 | MIG |
| JH89 | 100 – 300 | 1.2 – 4.0 | ≤ 2 | MIG |
| JH114 | 120 – 400 | 2.0 – 5.0 | ≤ 3 | MIG |
| JH165 | 160 – 520 | 2.5 – 7.0 | ≤ 3 | MIG |
| JH219 | 240 – 700 | 3.5 – 8.0 | ≤ 4.5 | MIG |
| JH273 | 320 – 900 | 4.0 – 10.0 | ≤ 5 | MIG |
| JH325 | 300 – 1100 | 5.0 – 12.7 | ≤ 6 | MIG |
| JH406 | 600 – 1300 | 6.0 – 14.0 | ≤ 7 | MIG |
| JH508 | 700 – 1650 | 6.0 – 16.0 | ≤ 8 | MIG |
| JH630 | 900 – 2000 | 6.0 – 22.0 | ≤ 9 | MIG |
| JH660 | 900 – 2200 | 6.0 – 23.0 | ≤ 9 | MIG |
| JH711 | 900 – 2400 | 8.0 – 25.0 | ≤ 10 | MIG |
FAQ
1) Q: Will you deliver the right goods as ordered?  How can I trust you?
   A: Yes, we will. We are Gold supplier of Made-in-China with SGS assessment (Audit report can be provided).  We have cooperated with many customers all over the world with high market reputation, no worries.
2) Q: How to choose the Tube Mill Line?
A: You have to inform us following details:
– The pipe material
– Round pipe range
– Square pipe range
– Rectangle pipe range
– Wall thickness range
– The pipe usage
3) Q: How to choose the Roll Forming Machine?
A: You have to inform us following details:
– Coil material
– Coil thickness
– Coil weight
– Cutting type
– Profiles drawings
– Other special attention
4) Q: How to choose the Slitting Line & Cut to Length line?
A: You have to inform us following details:
– Coil material
– Coil thickness
– Coil width
– Coil weight
– Finished sizes
– Other special attention
55) Q: Where is the nearest  airport  to your company?
   A: Shanghai Putong or Hongqiao Airport.
6) Q: How about your service? 
   A:  Before sales:
– Technical Support: TGMCO will provide detailed technical information such as technical &  commercial offer, machine photos, running video, layout, operation manual, and show you working machines in our factory.
– Apply Visa: TGMCO will provide officially invitation letter to apply Visa in china embassy as authority procedures and requirements.
After sales: TGMCO provides comprehensive After Sales Support and Service to meet our customer need.
– Drawings: Provide the foundation drawing, electric scheme and wiring diagram, hydraulic drawing, pneumatic & electric pipeline drawing and other drawings requested by customer.
– Installation and commissioning: TGMCO will send our technicians to customer's workshop for supervision of installation and commission
Training of Customers' technician/workers during commission
– Breakdown Support: We offer 1 year warranty service for main crucial components except consumables
Inform immediate technical assistance and advice to customer by phone or e-mail.
Skilled and experienced engineers are capable of dealing with any type of breakdowns.
Technical service work performed in Customer's site if required.
Urgently supply mechanical or electronic components.
Fast supply of spare parts and wearing parts to cover foreseeable requirements
Certificate
​
​
Main Customers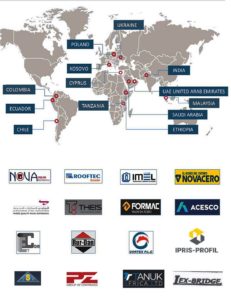 Packing & Delivery
Not only the Good Machine, but also the Most Attentive Service
Integrity Solution & Turnkey Project
Creat the Value of Steel