Welcome to Taicang Global Machinery Co., Ltd
At Global Machinery, we provide Tube Mill, Roll Forming Machine, Slitting & Cut to length Line and corresponding components, and meet your customized requirements. Contact us right now!
A Slitting Line is used to break mother coils down into baby coils of a specific width and or weight.  A Slitting Line will uncoil a mother coil and slit it to a specified width(s).  The slit coils sometimes referred to as strips are then recoiled.  The finished slit coils produced by Slitting Line are used in a wide variety of applications such as roll forming, stamping operations, and pipe making.  When considering a Slitting Line and the proper line configuration for your application, there are several variables you should consider: the thickness of material, the type of material, the weight of the coils to be produced, as well as annual volume to be processed all influence the line configuration and capabilities required for a successful installation.
Main Specification
High Speed Slitting Line
Model
0.2-1.8×500
0.3-2.0×1250(1600)
1.0-6.0×1600
3.0-12.0×2000

Material

δs≤230N/mm2, Cold-rolled Coil, Hot-rolled Coil, Galvanized Coil, Stainless Coil

Coil Thickness

0.2~1.8mm

0.3~2.0mm

1.0~6.0mm

3.0~12.0mm

Coil Width

100~500mm

800~1250 (1600)mm

800~1600mm

1000~2000mm

Coil Weight

≤5 tons

≤20 or 25 tons

≤25 tons

≤30 tons

Coil ID

φ508m`m

φ508mm

φ508 & 610 & 760mm

φ610 & 760 & 820mm

Coil OD

≤φ1600mm

≤φ2000mm

≤φ2000mm

≤φ2000mm

Strip Width

≥25mm

≥30mm

≥50mm

≥80mm

No. of Strip

5~15

8~20

5~15

4~15

Slitting Accuracy

±0.1mm

±0.15mm

±0.25mm

±0.3mm

Line Speed

0~150m/min

0~150m/min

0~150m/min

0~30m/min

Electrical Control

PLC

PLC

PLC

PLC
Nonferrous metal high speed Slitting line
Model 
0.2-1.5×600 
0.3-3.0×1250(1600) 

Coil material

Aluminum coil, Copper coil

Coil thickness

0.2~1.5mm

0.3~3.0mm

Coil width

100~600mm

300~1250(1600)mm

Coil weight

≤5T

≤20T

Coil ID

φ508mm

φ508mm

Coil OD

≤φ1500mm

≤φ1800mm

Strip width

≥25mm

≥25mm

Number of strip

5~15

8~20

Slitting accuracy

≤±0.05mm

≤±0.05mm

Line speed

0~150m/min

0~150m/min

Electrical Control System

PLC

PLC
Technical process:
1: Coil saddle
2: Hydraulic coil car: loading capacity 20 tons
3: Hydraulic cantilever uncoiler
4: Guiding plate for feeding device
5: Pinch and pre-leveler
6: Hydraulic loop bridge
7: Guiding device
8: Slitter
9: Scrap winder and tail pressing device
10: Loop bridge
11: Hydraulic pre-separator
12: Hydraulic recoiling machine
13: Hydraulic coil car
14: Electric Control System
15: Hydraulic system
Certificate
​
​
Main Customers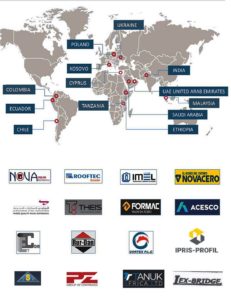 FAQ
1) Q: Will you deliver the right goods as ordered?  How can I trust you?
   A: Yes, we will. We are Gold supplier of Made-in-China with SGS assessment (Audit report can be provided).  We have cooperated with many customers all over the world with high market reputation, no worries.
2) Q: How to choose the Tube Mill Line?
A: You have to inform us following details:
– The pipe material
– Round pipe range
– Square pipe range
– Rectangle pipe range
– Wall thickness range
– The pipe usage
3) Q: How to choose the Roll Forming Machine?
A: You have to inform us following details:
– Coil material
– Coil thickness
– Coil weight
– Cutting type
– Profiles drawings
– Other special attention
4) Q: How to choose the Slitting Line & Cut to Length line?
A: You have to inform us following details:
– Coil material
– Coil thickness
– Coil width
– Coil weight
– Finished sizes
– Other special attention
55) Q: Where is the nearest  airport  to your company?
   A: Shanghai Putong or Hongqiao Airport.
6) Q: How about your service? 
   A:  Before sales:
– Technical Support: TGMCO will provide detailed technical information such as technical &  commercial offer, machine photos, running video, layout, operation manual, and show you working machines in our factory.
– Apply Visa: TGMCO will provide officially invitation letter to apply Visa in china embassy as authority procedures and requirements.
After sales: TGMCO provides comprehensive After Sales Support and Service to meet our customer need.
– Drawings: Provide the foundation drawing, electric scheme and wiring diagram, hydraulic drawing, pneumatic & electric pipeline drawing and other drawings requested by customer.
– Installation and commissioning: TGMCO will send our technicians to customer's workshop for supervision of installation and commission
Training of Customers' technician/workers during commission
– Breakdown Support: We offer 1 year warranty service for main crucial components except consumables
Inform immediate technical assistance and advice to customer by phone or e-mail.
Skilled and experienced engineers are capable of dealing with any type of breakdowns.
Technical service work performed in Customer's site if required.
Urgently supply mechanical or electronic components.
Fast supply of spare parts and wearing parts to cover foreseeable requirements
Packing & Delivery
Not only the Good Machine, but also the Most Attentive Service
Integrity Solution & Turnkey Project
Creat the Value of Steel
.