Welcome to Taicang Global Machinery Co., Ltd
At Global Machinery, we provide Tube Mill, Roll Forming Machine, Slitting & Cut to length Line and corresponding components, and meet your customized requirements. Contact us right now!
Uncoiler is to hold coil thru expansion mandrel preventing from loose coil. The coil pay off can be motor driven thru a gear reducer box. Its main shaft is equipped with a brake device for prevention of a loose winding. Its structure comes with choice of single or double cone. Single cone type features intuitive and easy operation. Double cones can be in form of either face to face or back to back rotary. For back to back rotary type, one cone is in operation unwinding coil while the other being loaded with a new coil, which doubles the work efficiency than single cone. For face-to-face type double cone, both can be in operation bearing the coil weight, in which way the requirement for heavy gauge steel coil is met. The feature of translational centre alignment is provided.
Main Specification
Highlights
Easy operation and maintenance

PC or PLC controlled, Equipped with a coil detector for accumulator's automated strip fill-in feeding

Reduce coil changeover time to minimum

Able to handle heavy gauge coil

Rugged structure with many options available, single or double cone

Powered rotation

Communication with flattener, shear & end welder and accumulator, realizing one-man operation for the complete entry line section
| | | | | | |
| --- | --- | --- | --- | --- | --- |
| Model No. | Coil Width (mm) | Coil Thickness (mm) | Coil ID (mm) | Coil OD (mm) | Coil Weight (Tons) |
| KJ32 | 40 – 120 | 0.6 – 1.6 | 420 – 620 | Max. 1600 | Max. 1.5 |
| KJ50 | 60 – 200 | 1.0 – 3.5 | 420 – 620 | Max. 1600 | Max. 2.5 |
| KJ76 | 100 – 260 | 1.2 – 3.75 | 420 – 620 | Max. 1800 | Max. 4.0 |
| KJ89 | 100 – 300 | 2.0 – 4.0 | 450 – 550 | Max. 2000 | Max. 5.0 |
| KJ114 | 120 – 400 | 2.0 – 5.0 | 450 – 550 | Max. 2000 | Max. 7.0 |
| KJ165 | 160 – 520 | 2.5 – 7.0 | 450 – 550 | Max. 2000 | Max. 8.0 |
| KJ219 | 240 – 700 | 3.5 – 8.0 | 450 – 550 | Max. 2000 | Max. 15.0 |
| KJ273 | 320 – 900 | 4.0 – 10.0 | 450 – 550 | Max. 2000 | Max. 18.0 |
| KJ325 | 300 – 1100 | 5.0 – 12.7 | 450 – 550 | Max. 2100 | Max. 25.0 |
| KJ406 | 600 – 1300 | 6.0 – 14.0 | 580 – 760 | Max. 2200 | Max. 30.0 |
| KJ508 | 700 – 1650 | 6.0 – 16.0 | 610 – 760 | Max. 2200 | Max. 35.0 |
| KJ630 | 900 – 2000 | 6.0 – 20.0 | 610 – 860 | Max. 2200 | Max. 40.0 |
| KJ660 | 900 – 2200 | 6.0 – 23.0 | 780 – 860 | Max. 2200 | Max. 43.0 |
| KJ711 | 900 – 2400 | 8.0 – 25.0 | 780 – 860 | Max. 2200 | Max. 45.0 |
FAQ
1) Q: Will you deliver the right goods as ordered?  How can I trust you?
   A: Yes, we will. We are Gold supplier of Made-in-China with SGS assessment (Audit report can be provided).  We have cooperated with many customers all over the world with high market reputation, no worries.
2) Q: How to choose the Tube Mill Line?
A: You have to inform us following details:
– The pipe material
– Round pipe range
– Square pipe range
– Rectangle pipe range
– Wall thickness range
– The pipe usage
3) Q: How to choose the Roll Forming Machine?
A: You have to inform us following details:
– Coil material
– Coil thickness
– Coil weight
– Cutting type
– Profiles drawings
– Other special attention
4) Q: How to choose the Slitting Line & Cut to Length line?
A: You have to inform us following details:
– Coil material
– Coil thickness
– Coil width
– Coil weight
– Finished sizes
– Other special attention
55) Q: Where is the nearest  airport  to your company?
   A: Shanghai Putong or Hongqiao Airport.
6) Q: How about your service? 
   A:  Before sales:
– Technical Support: TGMCO will provide detailed technical information such as technical &  commercial offer, machine photos, running video, layout, operation manual, and show you working machines in our factory.
– Apply Visa: TGMCO will provide officially invitation letter to apply Visa in china embassy as authority procedures and requirements.
After sales: TGMCO provides comprehensive After Sales Support and Service to meet our customer need.
– Drawings: Provide the foundation drawing, electric scheme and wiring diagram, hydraulic drawing, pneumatic & electric pipeline drawing and other drawings requested by customer.
– Installation and commissioning: TGMCO will send our technicians to customer's workshop for supervision of installation and commission
Training of Customers' technician/workers during commission
– Breakdown Support: We offer 1 year warranty service for main crucial components except consumables
Inform immediate technical assistance and advice to customer by phone or e-mail.
Skilled and experienced engineers are capable of dealing with any type of breakdowns.
Technical service work performed in Customer's site if required.
Urgently supply mechanical or electronic components.
Fast supply of spare parts and wearing parts to cover foreseeable requirements
Certificate
​
​
Main Customers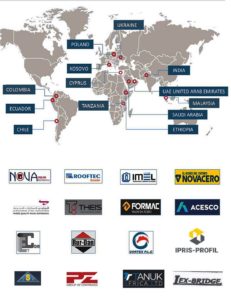 Packing & Delivery
Not only the Good Machine, but also the Most Attentive Service
Integrity Solution & Turnkey Project
Creat the Value of Steel