Welcome to Taicang Global Machinery Co., Ltd
At Global Machinery, we provide Tube Mill, Roll Forming Machine, Slitting & Cut to length Line and corresponding components, and meet your customized requirements. Contact us right now!
Product introduction
Galvanized silicon (GL) product is hot dip aluminizing (Al55%), zinc (Zn43.5%) and silicon (Si1.5%) alloy on surface of the strip steel with excellent corrosion resistance performance.
Hot-dipped gavalume alloy is successfully developed on the basis of hot-dip   aluminizing and hot galvanizing. It does not only have the excellent resistance to the atmospheric corrosion, heat resistance and oxidation resistance, it also has the  excellent electrochemical protection of the galvanized steel product, these make the incisions and scratches difficult to get corroded and rusted.;
Its main advantages are as follows:
(1) It has smooth surface with excellent resistance to atmospheric corrosion, its corrosion resistance life is 2-6 times longer than the hot-dipped galvanized steel sheet;
(2) It has good heat resistance and oxidation resistance, it can have long-term unchanging color at 300 ℃, it can be used over a long period of time at about 500 ℃, it has good resistance to water and soil corrosion, its water corrosion resistance is better that of the hot dipped galvanized steel sheet and hot-dip aluminized plate, the soil corrosion resistance is better than that of the hot-dipped galvanized steel sheet, and it is the ideal material for production of corrosion resistant components including automobile muffler, exhaust pipe,  grain dryer, water heater and other corrosion resistant components; In addition, heat reflection factor of the product is higher than 75%, which is twice as that of galvanized sheet;
(3) It has excellent coating property and good processability. It also has strong binding force with organic materials, and it is the best choice for organic coated steel sheet. Its processability and weldability are similar with those of the hot galvanized plate, cold bending and stamping can be carried out. Furthermore, it also has good appearance.
Quality standard
National standard GB/T14978-2008  enterprise standard Q/320206HXIR01-2012
Process flow
Hot rolling plate – acid pickling – cold rolling – annealing -hot aluminum zinc plating- flattening – straightening – finished products
    Application area
Housings & buildings: roofs, walls, garages, soundproof walls, pipes and modular housings, etc.
Car:Mufflers, exhaust pipes, wiper accessories, fuel tank,  freight   car , etc.
Home appliance: refrigerator backboard, gas stove, air conditioner, microwave oven, LCD frame, CRT-implosion protection band , LED backlight and electrical cabinet, etc.
Farm: Piggery, hennery, barn, pipelines for greenhouse, etc. Others: heat insulation cover, heat exchanger, dryer and calorifier, etc.
Stock quotation
Products:
Thickness: 0.23 to 2.5mm
Width: 914 ~ 1, 250mm (914, 1, 000, 1, 200, 1, 219, 1, 220 and 1, 250mm)
Coil ID: 508 mm
Coil weight: 2 ~ 7 Ton
Coating: AZ50~AZ150g/M2 
JIS G3312 SGLCC ASTM A792 CS-B
Package: Sea Package
Certificate
Main Customers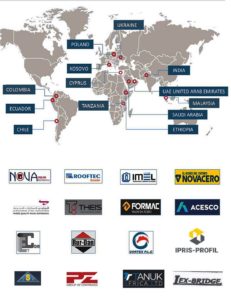 FAQ
1) Q: Will you deliver the right goods as ordered?  How can I trust you?
   A: Yes, we will. We are Gold supplier of Made-in-China with SGS assessment (Audit report can be provided).  We have cooperated with many customers all over the world with high market reputation, no worries.
2) Q: How to choose the Tube Mill Line?
A: You have to inform us following details:
– The pipe material
– Round pipe range
– Square pipe range
– Rectangle pipe range
– Wall thickness range
– The pipe usage
3) Q: How to choose the Roll Forming Machine?
A: You have to inform us following details:
– Coil material
– Coil thickness
– Coil weight
– Cutting type
– Profiles drawings
– Other special attention
4) Q: How to choose the Slitting Line & Cut to Length line?
A: You have to inform us following details:
– Coil material
– Coil thickness
– Coil width
– Coil weight
– Finished sizes
– Other special attention
55) Q: Where is the nearest  airport  to your company?
   A: Shanghai Putong or Hongqiao Airport.
6) Q: How about your service? 
   A:  Before sales:
– Technical Support: TGMCO will provide detailed technical information such as technical &  commercial offer, machine photos, running video, layout, operation manual, and show you working machines in our factory.
– Apply Visa: TGMCO will provide officially invitation letter to apply Visa in china embassy as authority procedures and requirements.
After sales: TGMCO provides comprehensive After Sales Support and Service to meet our customer need.
– Drawings: Provide the foundation drawing, electric scheme and wiring diagram, hydraulic drawing, pneumatic & electric pipeline drawing and other drawings requested by customer.
– Installation and commissioning: TGMCO will send our technicians to customer's workshop for supervision of installation and commission
Training of Customers' technician/workers during commission
– Breakdown Support: We offer 1 year warranty service for main crucial components except consumables
Inform immediate technical assistance and advice to customer by phone or e-mail.
Skilled and experienced engineers are capable of dealing with any type of breakdowns.
Technical service work performed in Customer's site if required.
Urgently supply mechanical or electronic components.
Fast supply of spare parts and wearing parts to cover foreseeable requirements
Packing & Delivery
Not only the Good Machine, but also the Most Attentive Service
Integrity Solution & Turnkey Project
Creat the Value of Steel