Welcome to Taicang Global Machinery Co., Ltd
At Global Machinery, we provide Tube Mill, Roll Forming Machine, Slitting & Cut to length Line and corresponding components, and meet your customized requirements. Contact us right now!
Directly Forming to Square and Rectangular Tube Mill 600×600
Main Specification
ADVANTAGES:
The square or rectangular shaping is formed out before the tube welding, with important advantages in terms of power and material cost reduction
Great flexibility and possibility of modify the tube dimension without any roller change (in forming – welding – sizing – straightening) for any sizes within the mill production capacity range.
Extreme reduction of mill set up time
Elimination of all cost for roller sets
Increase of productivity and reduction of stock and relative costs
Reduction of manpower due to the complete automation of mill operation and adjustment
Minimal and easy maintenance
Display with automatic illustration of tube section for each production step.
Easy use of software for setting up of any production parameters including tube angle radius
Main Specifications
Below is our standard tube mills table, we can customize machines as per customer special requirements
| | | | | | | | |
| --- | --- | --- | --- | --- | --- | --- | --- |
| Model | Material | Square | Rectangular | Thickness  | Tube length | Line Speed |  Welding Method |
| 125×125 | Carbon Steel Cold or Hot rolled Slited coils | 50 x 50 – 125 x 125 mm | 50 x 70 – 100 x 150 mm | 1.5 – 5.0 mm | 6.0 – 12.0 meters | Max. 50 m/min | Solid State High Frequency Welding 400kw |
| 150×150 | Carbon Steel Cold or Hot rolled Slited coils | 70 x 70 – 150 x 150 mm | 60 x 80 – 100 x 200 mm | 2.0 – 6.0 mm | 6.0 – 12.0 meters | Max. 50 m/min | Solid State High Frequency Welding 500kw |
| 200×200 | Carbon Steel Cold or Hot rolled Slited coils | 80 x 80 – 200 x 200 mm | 80 x 100 – 200 x 150 mm | 2.0 – 8.0 mm | 6.0 – 12.0 meters | Max. 45 m/min | Solid State High Frequency Welding 600kw |
| 250×250 | Carbon Steel Cold or Hot rolled coils | 100 x 100 – 250 x 250 mm | 150 x 100 – 250 x 150 mm | 2.0 – 10.0 mm | 6.0 – 12.0 meters | Max. 35 m/min | Solid State High Frequency Welding 800kw |
| 300×300 | Carbon Steel Cold or Hot rolled coils | 120 x 120 – 300 x 300 mm | 150 x 100 – 300 x 200 mm | 3.5 – 12.7 mm | 6.0 – 12.0 meters | Max. 30 m/min | Solid State High Frequency Welding 1000kw |
| 400×400 | Carbon Steel Cold or Hot rolled coils | 180 x 180 – 400 x 400 mm |  180 x 200 – 300 x 400 mm | 5.0 – 14.0 mm | 6.0 – 12.0 meters | Max. 30 m/min | Solid State High Frequency Welding |
| 500×500 |  Carbon Steel Cold or Hot rolled coils | 250 x 250 – 500 x 500 mm | 350 x 250 – 500 x 400 mm | 5.0 – 18.0 mm | 6.0 – 18.0 meters | Max. 25 m/min | Solid State High Frequency Welding |
| 600×600 | Carbon Steel Cold or Hot rolled coils | 300 x 300 – 600 x 600 mm |  300 x 400 – 500 x 600 mm | 6.0 – 22.0 mm | 6.0 – 24.0 meters | Max. 20 m/min | Solid State High Frequency Welding |
FAQ
1) Q: Will you deliver the right goods as ordered?  How can I trust you?
   A: Yes, we will. We are Gold supplier of Made-in-China with SGS assessment (Audit report can be provided).  We have cooperated with many customers all over the world with high market reputation, no worries.
2) Q: How to choose the Tube Mill Line?
A: You have to inform us following details:
– The pipe material
– Round pipe range
– Square pipe range
– Rectangle pipe range
– Wall thickness range
– The pipe usage
3) Q: How to choose the Roll Forming Machine?
A: You have to inform us following details:
– Coil material
– Coil thickness
– Coil weight
– Cutting type
– Profiles drawings
– Other special attention
4) Q: How to choose the Slitting Line & Cut to Length line?
A: You have to inform us following details:
– Coil material
– Coil thickness
– Coil width
– Coil weight
– Finished sizes
– Other special attention
55) Q: Where is the nearest  airport  to your company?
   A: Shanghai Putong or Hongqiao Airport.
6) Q: How about your service? 
   A:  Before sales:
– Technical Support: TGMCO will provide detailed technical information such as technical &  commercial offer, machine photos, running video, layout, operation manual, and show you working machines in our factory.
– Apply Visa: TGMCO will provide officially invitation letter to apply Visa in china embassy as authority procedures and requirements.
After sales: TGMCO provides comprehensive After Sales Support and Service to meet our customer need.
– Drawings: Provide the foundation drawing, electric scheme and wiring diagram, hydraulic drawing, pneumatic & electric pipeline drawing and other drawings requested by customer.
– Installation and commissioning: TGMCO will send our technicians to customer's workshop for supervision of installation and commission
Training of Customers' technician/workers during commission
– Breakdown Support: We offer 1 year warranty service for main crucial components except consumables
Inform immediate technical assistance and advice to customer by phone or e-mail.
Skilled and experienced engineers are capable of dealing with any type of breakdowns.
Technical service work performed in Customer's site if required.
Urgently supply mechanical or electronic components.
Fast supply of spare parts and wearing parts to cover foreseeable requirements
Certificate
​
​
Main Customers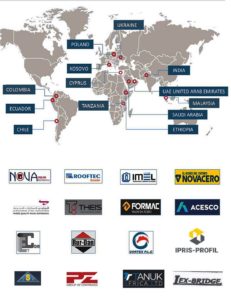 Packing & Delivery
Not only the Good Machine, but also the Most Attentive Service
Integrity Solution & Turnkey Project
Creat the Value of Steel